Events
One of the things that marks out Twickenham CC as a serious club supporting grassroots cycle sport – and lots of other fun things – is that we put on events every year across several disciplines…
Club AGM – 9th April 2024
This is held in March/April and offers an opportunity for members to vote on important issues and for the club champions to be awarded with their trophies.
The Surrey Rumble – 17th March 2024
The Surrey Rumble is TCC's very own sportive that takes place in March and kickstarts the season. Two routes are available and the rides leave from Cobham Village Hall.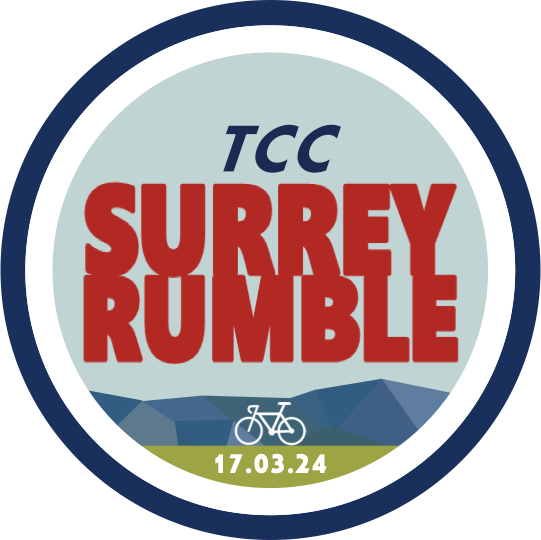 Rider Training Sessions – March and April 2024 (exact dates t.b.a)
(Bunch/race riding skills and Club Ride Leader training)
The Dave Peck Memorial Women's Road Race – Sun 21st April 2024
Held in the Spring, this is a British Team Cup race that always attracts a strong field.
'Strictly Cycling' (kids' fun on bikes) – Summer Thursday Evenings
May Bank Holiday Rides – Early and Late May Bank Holiday Mondays
These are traditional longer club rides on Bank Holiday Mondays.
WLC 25 mile TT (inc. TCC TT Championship) – May 2024 (date t.b.c.)
TCC-hosted TT – part of the West London Combine series.
Inter-club 25mile TT – May 2024 (date t.b.c.)
A great event competed for by Twickenham CC, Hounslow & District Wheelers, and Westerley CC.
Track Open Meeting at Herne Hill Velodrome – June 2024 (exact date t.b.c)
As part of the monthly Open Season series at Herne Hill, TCC hosts the meeting on the first Saturday in June.
Club Road and Club TT Championships at Hillingdon – Sat 5th October 2024
The competitions to find the Club Champions in various categories of road race and also a time trial competition.
Majorca Training Camp – 12-26 Oct 2024 (can sign-up for one or two weeks)
Usually for one week during the above dates, a TCC group goes to Legro's Cycling Experience in Majorca
Club Hill Climb – October 2024 (date t.b.c.)
The annual TCC Hill Climb on Crimp Hill in Windsor.
End-of-Season Social – 12th November 2023
A club-subsidised get-together
Mac Memorial Cyclocross Meeting – Hillingdon – 26th November 2023
Each year in November we host a cyclocross event at Hillingdon Cycle Circuit. For the last few years, this event has been the Regional Championships.
Bike boot-sale – Tuesday 12th Dec – The Patch, Twickenham
An opportunity for members to buy/sell/swap bike bits
TCC Christmas Ride
A not-too-serious ride out into Surrey with tea/pub stops and ending with a meal at a local restaurant or pub. 2023 Edition on Saturday 16th December 2023