Time Trials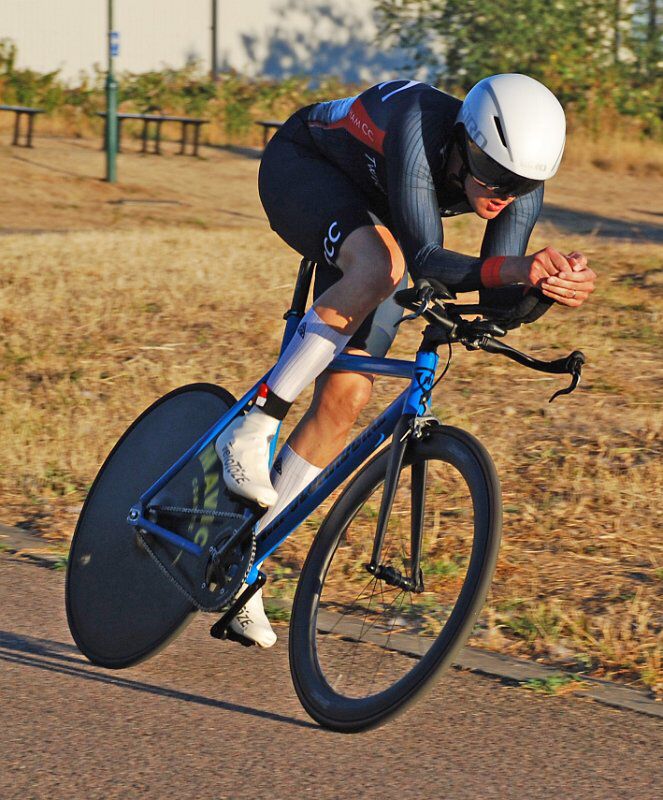 If you are new to racing, riding a time trial is an excellent way to dip your toe in the water and pin-on a number for the first time. You don't need any special equipment – most TTs have a road bike category – but if you get the bug, you'll be looking for ways to improve aerodynamically. You've no option but to set a personal best at your first TT and, after that, you're effectively racing yourself trying to better your time.
Time trialling goes way back to the days when cycle racing was banned on Britain's roads. Bunch racing was out of the question, but resourceful sporting cyclists competed by riding over a set distance, setting off very early in the morning at one minute intervals wearing inconspicuous clothing on courses that were identified by cryptic codes.
These days, TTs are raced either over a set distance with 10 and 25 miles being the most common (but 50 and 100 miles also available), or over a set time-period like 12 or 24 hours, where distance travelled rather than time is the object. Time trialling in the 21st century is still a popular form of cycle sport that is really accessible to new racers. The cloak-and-dagger stuff is long gone, but the arcane course codes and early starts remain!
Remember, since 2020 it is compulsory to have lights on your bike and to wear a helmet to compete in time trials.
TCC member Gareth Williams tells his story…
Around eight(ish) years ago, the Interclub was my first time trial for about 30 years, and my first event of any sort with TCC. I did it on a road bike with clip-on tri-bars and somehow managed a time of 1:04 – something which I was quite pleased with.
I got the bug from that one event! I found time trialling to be way less stressful than road racing whilst still delivering on the excitement and huge sense of achievement you get by pinning on a race number. Fast forward to today and I have a 51 minute PB over 25 miles and have represented GB three times at the UCI Gran Fondo time trial world championships. Last year in Sarajevo was my best placing to date, 8th in my age category, despite falling off on wet roads close to the finish.
My main point here is that you just never know. Maybe you'll hate it, in which case at least you had a crack. Maybe you'll find the combination of physical and mental challenge to be so alluring that you'll end up as world-champion in your age category. It really doesn't matter how fast or slow you think you might be, what bike you have, whether you've raced before, or for that matter what time anyone else achieves. It's all about you, going as fast as you're able to, setting yourself a personal benchmark, and then trying to beat it at some point in the future when you next decide to have a go.
Added to that, we have really knowledgeable and experienced 'testers' in TCC all of whom will, I'm certain, be more than willing to share tips and tricks and advice if ever you need it. All you need is a bike – any bike – and yourself. Okay, you'll probably need an alarm clock as it's a bit of an early start!