Coaching
At Twickenham CC we are proud of our coaching facilities, being an integral part of our structure.
Our coaching team consists of 2 British Cycling Qualified "Club" Coaches working alongside an additional 5 Level 1 or 2 Coaches.
Training
Please Note:- We are predominantly a race orientated club, however, that does not mean that we are elitist or unapproachable. We pride ourselves on our friendliness & inclusive approach, but we do request that prospective members are capable of riding for a minimum of 40 miles (65Km) at an average speed of 15mph (24Kph).
Tuesday Evenings
Summer
Leave Clubroom shortly after 7pm for a ride lasting between one and two hours. 2 Groups, mixed according to abilities, ride to either Weybridge, Cobham or Windsor returning to the Clubroom for refreshments and social chat.
Winter
Leave Clubroom shortly after 7pm for a ride lasting between one hour and one and half hours. Groups, mixed according to abilities, ride various local routes returning to the Clubroom for refreshment and social chat.
October - April
Turbo Training Sessions at the Clubroom.
Each week a structured work-out will prepare you for all of your goals, with sessions including pedalling drills, posture, speed, fast pedalling, strength, power and high intensity. All of these will contribute to your base ready for racing next season. Setup starts at 7:15pm for a 7:30pm start.
We have around 15 turbo trainers at the clubroom available to borrow, so first come first served. You can however bring your own. Space is limited to around 18/20.
Tea & Cake is available afterwards (Ann's World Famous Flapjacks are often featured) and in addition, you will have the opportunity to catch up with all of the latest gossip from fellow members.All this the paltry sum of £2 for adults or £1 for Youths/Juniors.
Expect to see your performance improve!! - You never know, you might even enjoy it!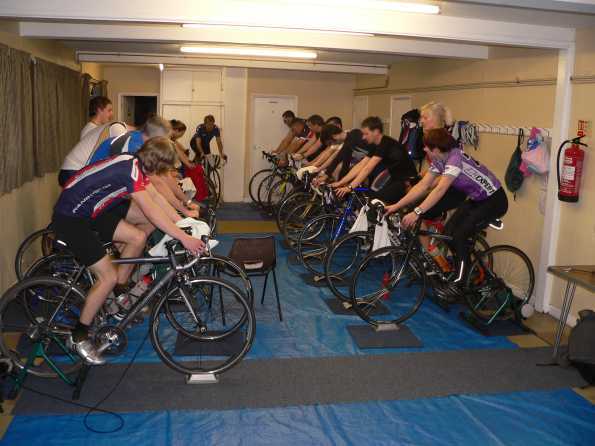 Thursday Evenings
Summer
Club Members can take part in the Hounslow & District Wheelers Evening 10 Time Trials which take place on the HCC83 course near Chertsey each Thursday, these begin at 7pm, usually 23 weeks from April through August. Results of these events can be found on the Club Events Page at the Hounslow and District Wheelers website. .
Saturday Mornings
All Year
Meet at Clubroom at 9am sharp, ride out as far as Windlesham - tea at Fairoaks Airport - back at the Green between 12 and 12.30 - approximately 40 miles. All abilities.
Sunday Mornings
Summer
Most Club Members race during the summer months, however small groups do usually go out on Sunday mornings leaving at 09:30 from Twickenham Green (Google Map).
Winter
Meet at Twickenham Green (Google Map) at 9.30am. Groups, mixed according to ability, ride various routes into Surrey, Berkshire or sometimes further afield. Rides generally last between two and four hours.
View Larger Map
Here are some examples of our routes
| | | |
| --- | --- | --- |
| Destination | Distance | Cafe Stop (if applicable) |
| Chobham Ridges | 55 Miles | Fairoaks Airport |
| Seale | 65 Miles | Manor Farm Craft Center |
| Marlow | 65 Miles | Marlow Liesure Center |
| Box Hill | 45 Miles | Bocketts Hall Farm (Fetcham) |
| Leith Hill | 55 Miles | Abinger Hammer |
| Newlands Corner | 45 Miles | New Barn Cafe |
| Cranleigh | 65 Miles | The Lucky Duck (Shere) |
---
Training Ride Guidelines
In the interests of safety and to ensure a structured training ride, riders on the
Twickenham Cycling Club Tuesday Evening Training Rides
are expected to adhere to the following guidelines.
1. Training Groups
Training rides usually consist of three or more groups at various levels of experience, fitness and speed from moderate to fast.
Each group is led by a designated leader or leaders.
The training is either 'through and off' or 'bit and bit' where all riders in the group take regular turns on the front, so that everyone in the group shares the work.
Rides are conducted in an orderly manner without massive fluctuations in speed.
Riders should be able to take regular turns on the front.If for any reason riders find themselves unable to do this then they should inform the group leader and 'sit in' at the back for the remainder of the ride.The rider should consider a different group the following week.
It is the responsibility of each rider to know which group they should ride with. Riders may be asked to withdraw from a group if they are unable to maintain the pace or take turns on the front. Nevertheless, riders in the slower groups are encouraged to make the transition up to faster groups when able.
2. Riders Responsibilities
Riders must abide by the Highway Code at all times.
Dangerous and unlawful cycling cannot be tolerated and riders must not bring the Club into disrepute.
It is the responsibility of each rider in the group to consider the safety of their fellow riders and other road users, to consider the road and weather conditions and to ride accordingly.
It is the responsibility of each rider to carry necessary tools, equipment and working lights.
It is the responsibility of each rider to know how to get back to the Club-room, or home if need be, by themselves should they be separated from their group by puncture, breakdown or pace.
The slower groups will probably wait for all their riders.
On the faster rides it is possible that the group will not stop to wait for anyone dropped.
Riders on the TCC Tuesday Evening Training Rides are expected to register and pay before the ride (50p for under-18s), which includes tea and cakes back at the Clubroom.
Riders joining the ride after it starts and/or not coming back to the Clubroom are still expected to pay.
Regular riders who are not TCC members can expect to be asked to join the Club.
Riders are advised to have personal insurance cover from BC or other similar organisation.
PLEASE NOTE: Twickenham Cycling Club will not accept responsibility for loss or damage to riders or equipment whilst on a training ride.