Puertos Esmerelda (Asturias-Spain) 2009
A report from Mark Spindler
This is the second year that I've taken part in the Puertos Esmeralda, a stunning sportive set in the North of Spain.
It consists of 110km with a few challenging climbs.
My girlfriend comes from Asturias, that's how I came to know of this yearly event. Organised by a local Spanish cycling Club called Nava 2000.
After a relatively smooth journey on Easyjet from Stansted direct to Oviedo, I finally arrived at Cristina's family home. When assemblying the bike together, disaster struck when I overtighten my seat clamp and stripped the thread. Not a great start! Luckily this was the day before and I was able to find a replacement. For those who are thinking of taking their bikes abroad, it's worth taking a spare clamp as this can be a common incident which has the potential of ruining your adventure.....
An early rise for 6:00, enough time for breakfast, and the hour drive to the village of Nava, where the event started. We set off at 9:00, the weather was dry but slightly overcast. I was feeling fresh and eager to stay near the front. The route takes you through sculpted green hills and along a beautiful coastline. I stayed pretty much near the front for the whole day, keeping the lead car insight. Spanish riders were fantastic to ride with, with perfect riding etiquete and a friendly word of encouragement when the going got tough. Towards the end, the lead car pulled away leaving us to tackle the longest climb of the day, which was 4km and very steep, like all good sportives they saved this for the end to test your steel.
Finally, the finish was insight and I arrived back in the town of Nava, to a cheering crowd of locals, friends and family.This event is extremely well organised and I would categorise it as a sportive, however it isn't a race against the clock, as you don't get a time. It is more like a big club ride, with a rolling road closure and a total of three fuel stops to keep you going with one enforced stop midway through. After picking up my trophy for being one of the participants coming from overseas, a feast of the best local food and cider was offered to all participants and spectators. I even managed to get my picture taken with ex-pro rider Triqui Beltran, who was the guest rider this year.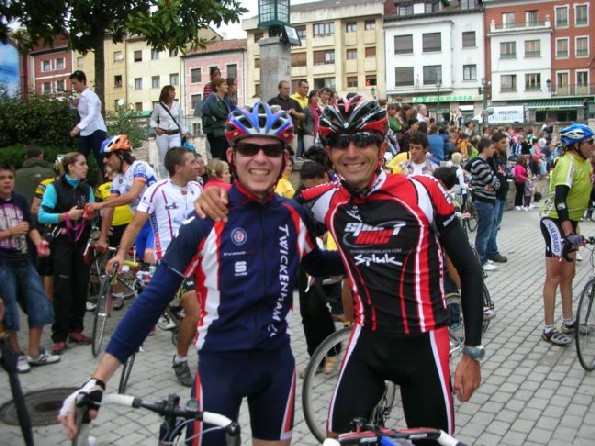 ---
Reports Archives