Paris Club Run - 04-06/09/2009
Protagonists - Kevin Bird, Mark Veldmeijer, George Kirkin, Des Bennett, John Scott (day 2)
Twickenham to Coquelles
Des arrived at The Green at 06:30 to find Mark & George already there, and both looking apprehensive given the daunting test upon which we were embarking.
Ahead lay 3 long days in the saddle, with deadlines to be met.
We were just waiting for Kevin now. Within minutes, an ear-piercing screech shook any remaining dregs of slumber from our thoughts, as Kevin's brakes announced his arrival.
Last minute checks were performed, and off we went in the direction of Leatherhead, sticking to the main roads for brevity's sake. The hushed tone of the suburbs was disturbed by a holler from Des which negated us missing the turning to Leatherhead Common. The traffic on the A24 through Given's Grove and past the foot of Box Hill was barely noticeable due to our early departure time, however, once onto the A25, things got a little busier.
We soon - actually too soon - turned off towards Betchworth, and some convincing blagging from Des, combined with a quick check of Kevin's GPS confirmed that we could correct ourselves quite easily, and we were pleased to be off the main road.
The sun shone, the wind was behind us, and all was well with the world as we strove for our first scheduled stop at Edenbridge via quiet lanes and the picturesque countryside of the Mole Valley.
A pattern had established, with Mark tapping out a strong tempo on the front, Kevin & George riding shotgun, whilst Des hung on valiantly until the terrain began to undulate (all of which was mapped out on the route profile wrapped around Des' handlebar stem).
At the Café, Des shared out some emergency tyre boots, which George quickly commandeered to stop his panniers from rattling, whilst Kevin struck up a friendship with one of the locals outside the Café. We analysed our achievement so far, what lay ahead of us, and our progress was relayed to anxious partners back home.
Once into Kent, we by-passed Tunbridge Wells en-route to the High Weald (an Area of Outstanding Natural Beauty), and pushed on through Wadhurst and Ticehurst. We entertained ourselves along the way with a selection of demanding inclines, interspersed by a serenade of horrifying screams emanating from Kevin's brakes on the fast descents.
Mark demonstrated his manly prowess on this oscillating terrain, and established a lead in the KOM competition, never to be relinquished (upon later questioning, it was established that family honour was the sole incentive for his display).
Another sharp-eyed intervention from Des prevented us from going off track as we rolled towards Benenden, until we found our passage blocked by a Road Closure! We took a chance, and decided to follow our chosen track, clipping in on a sharp rise that took George by surprise as he over-balanced and ended up on the floor. Thankfully, neither George, nor his mount was damaged. Eventually we came across some road works, where the kindly labourers stopped what they were doing to allow us through without any audible or visible fuss – result.
Throughout, "Big Des" emphatically reinforced Newton's First Law of Gravity, and consequently caught up with, and indeed overtook, his less well-padded triumvirate of club-mates on the many downhill sections along the way.
Tenterden, a sprint town on 2007 London to Canterbury stage of the Tour de France, was in our sights. Des hit the front and opened up a lead on the approach, claiming the points for getting to the Pub first for lunch – thus proving that "where there's a will, there's a way", or in other words, "there's no getting between him and a bar!".
During our rest stop, a gentleman of advanced years introduced himself to Des as a retired frame-builder for Raleigh, and they had a brief chat.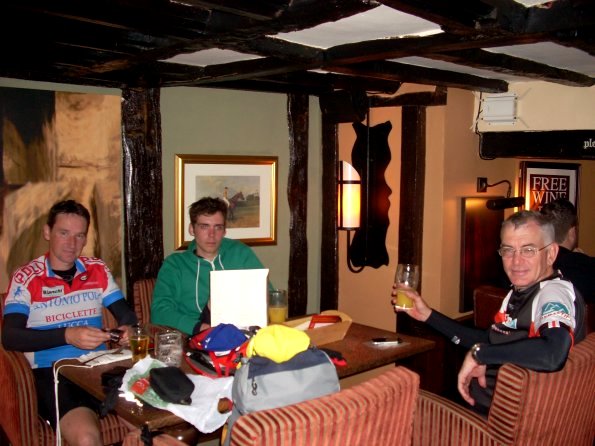 Once the excellent lunches were consumed (Recommendation - The White Lion, Tenterdon), we resumed our journey though hedge-rowed lanes, that were quieter than a quiet little quiet thing, with stunning views of the local landscape, dotted with oast-houses, windmills, occasionally blotted by the achromatic Dungeness Power Station and nearby off-shore wind farm.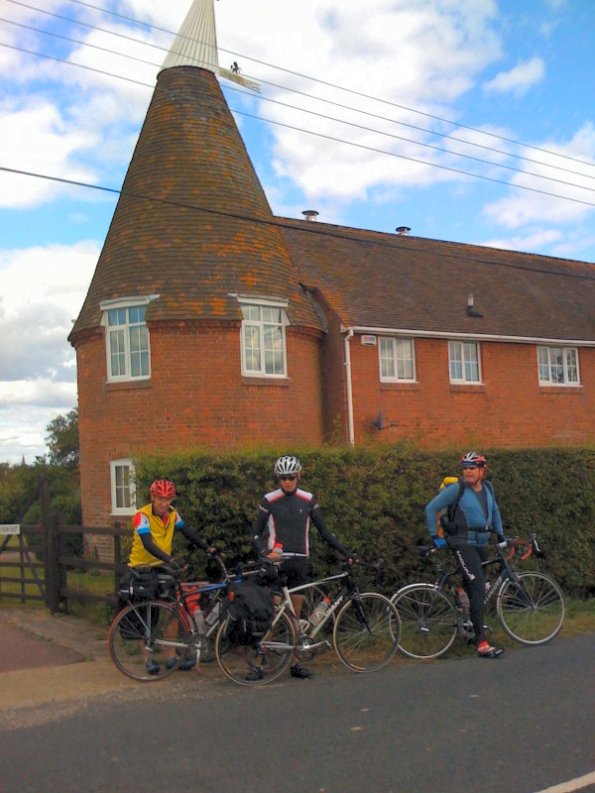 Coastal landmarks and indeed "La Belle France" was spotted in the distance, and an air of impending arrival enveloped the group, only for our optimism to be shattered by a quite cheeky little - well, actually quite vicious and testing – ascent, a mere 10 miles before out 3rd refuelling stop of the day at Folkestone.
I could probably write a book about the decay of this once genteel seaside town, however: -
a) It would be very short,
b) It probably wouldn't merit publication due to the apathetic ambience clouding this settlement of human detritus and apparently talentless town planners.
An establishment purporting to be a Café was visited, and a rapid departure from Hades was undertaken once Coffee & Chocolate Fudge Cake – complete with "hundreds & thousands" had been administered to our by now weary bodies. At least we had cracked the 100 mile barrier.
As the saying goes, "onwards and upwards", and never was a colloquialism so true - we were immediately faced with a gruelling 2 mile climb up to the Battle of Britain memorial at Capel-le-Ferne. The remaining miles of our journey to Dover clicked off at an impressively swift rate, due to the affable terrain and the blistering pace being set on the front by Des, until the clock registered zero, and we had achieved our primary objective.
Once at the Ferry Terminal, a quick reconnaissance of the compound was not enough to locate John, though we did eventually meet up at the check-in "facility" for cyclists. Now a quintet, we boarded the Pride of Burgundy, and settled into our seats for the crossing.
Sitting next to the "Restaurant", the smells were quite nauseating, so we re-convened our musings in the Bar; passing by the hordes of passengers enjoying their last taste of British cuisine at its best before their return crossing. The Bar delivered exactly what was expected – Beer – and the float on the boat passed in a jolly passage of banter and frivolity - during which it was established that George had passed his GCSE in French, the remainder of the party couldn't remember that far back, and Des (quelle surprise) could navigate his way around a menu.
Once 'Forrin' soil was reached, we struck out forlornly in the darkness of Calais in the direction of our accommodation only to be thwarted by non-existent "roads" and a maze of one-way streets, until eventually we found our track to the Hotels.
Showered & changed, we went in search of sustenance at the monolithic Cite Europe Mall. We located a suitable venue, which purely by coincidence happened to be a micro-brewery. This almost certainly contributed to the enjoyment of the fare, but I just knew that better food was still to come on our adventure.
Off to bed at 23:30, with promises of an early start the next day.
118 Miles, 14.4 Average - Stage 1 of the London to Paris Club Run was complete.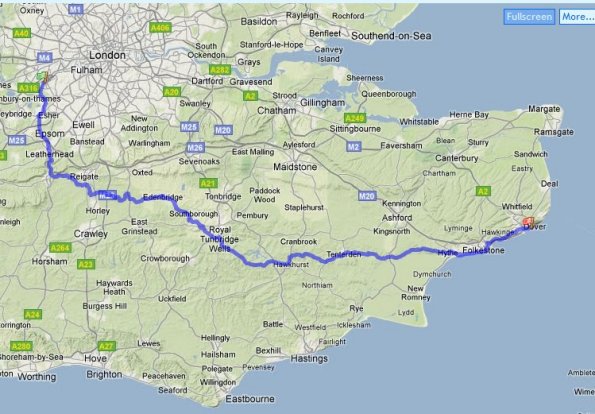 ---
Coquelles to Amiens
An early start to the day for Kevin, who was awoken during the night by whistling noises, later confirmed to be sourced by John's Hearing aid. The rest of us had a comparative lie-in until 06:30. Breakfast was swiftly despatched, and we set off again at 07:45.
The overcast skies quickly burned off as we headed West towards the Côte d'Opale, and our toughest climb of the day to Escalles, starting a mere 3 miles into our route. John and Des were floundering on this affair, whilst the remainder of the posse danced their way skywards.
The reward once we reached Escalles was a truly glorious view of Dear Old Blighty back across the channel, but a shorter and sharper rise split us up again. With Des on the front, and John tucked snugly in echelon, they made significant inroads on the advance party, who had graciously kept a steady pace to allow us to rejoin them. Superb coastal views accompanied us on our south-westerly foray, and we all agreed that it was worth including this sector on our route, even though it increased our ride by ~15-20 miles over the more direct alternatives.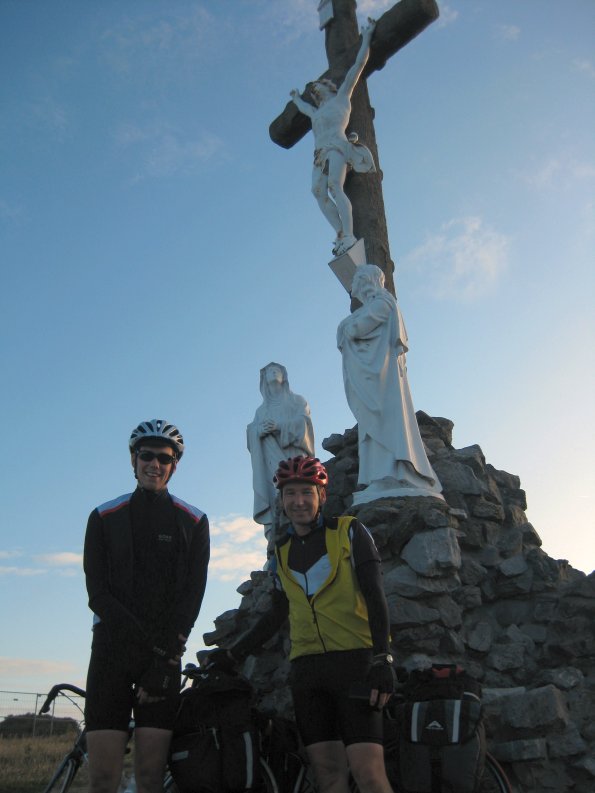 The Westerlies from the previous day had abated only slightly overnight, so quite strong cross-winds hampered our progress, (due to our proximity to the coast) and things were not quite as easy as the day before, but still the sun shone, and on we pressed towards our mid-morning break at Boulogne-sur-Mer. Our approach to the port afforded us wonderful outlooks, and the descent into town was challenging in the blustery conditions, especially on fully laden bikes / backs. A large group of local club riders climbed out on the opposite side of the road, as we careered towards the harbour.
Des inevitably reached the bar first, but not this time in pursuit of alcohol, instead 5 Petit Dejeuners of Bread / Jam / Croissant / Orange Juice, & Coffee were ordered, and we took the opportunity to replenish our bidons.
Another climb ensued as we left Boulogne, which John & Des again lagged behind on, but once atop, a cycle path was discovered next to the road, which we made full use of. George succumbed to an Unscheduled Pneumatic Implosion (UPI), so Kevin & Mark assisted his recovery, whilst John & Des carried on to ensure that delays were kept to a minimum.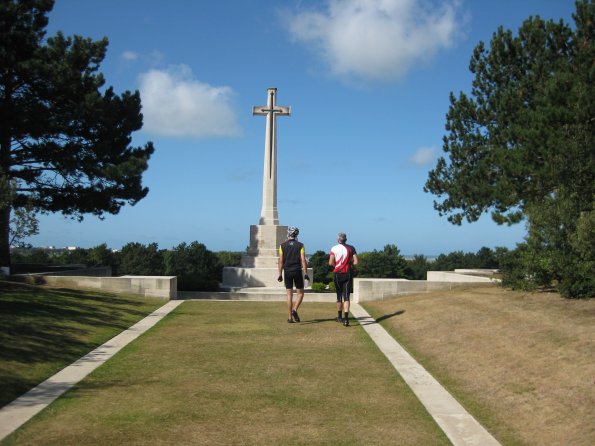 By this time, John & Des had built up quite an understanding, with Des on the front, John sheltered from the wind behind his substantial frame and they quite happily progressed at an above average pace until the trio of Kevin, Mark, & George caught up a mere 2 miles from Berck and our scheduled lunch stop. At this juncture, John also suffered a UPI, and Des delivered a sermon on the finer points of Tyre, Rim, & Tube relationships in such a scenario.
The signpost to Berck was a trigger for discussions as to whether we should ride further before breaking for Lunch, or stop there and then. The consensus was that a sign indicating a Tourist Office was liable to lead to a suitable habitat for restaurants and that if we carried on further we ran the risk of missing out, so we duly turned in the direction of the arrow. No more then 200m further down, yes - you've guessed it; Des spotted an inviting tavern with boards outside offering a comprehensive range of affordable country fare in keeping with the local terroir.
Des translated the menus for the rest of the group, and started ordering. On this occasion though a mispronunciation caused much merriment, and the locals presumably thought they would help out by providing farmyard impressions. Hardly reaching "Mock the Week" levels of alacrity - but embarrassing all the same - Des knew what he was ordering, but just hadn't said it properly.
France 1 (o.g. Bennett 5) – England 0.
Ignoring the damage to his ego, this was actually a positive sign, as it indicated that this was a local's hang-out (and that they had probably hadn't had to speak to any 'Forriners' for about 70 years).
France 1 (o.g. Bennett 5) – England 1 (Churchill 45)
As hoped for, the food delivered to us could only be described as being "top drawer", with flavoursome ingredients, beautifully cooked – overall, an outstanding lunch, and very reasonably priced too.
Full Time France 1 (o.g. Bennett 5) – England 2 (Churchill 45, Twickenham CC 2009)
Once sated, the pathfinder squadron struck out in the direction of Abbeville, leaving Des riding a steady pace to keep John from over-exertion. Having turned inland, we now benefited from a tailwind and again, good progress was made. John, having had years of experience in multi-day touring and indeed racing, was suffering due to recent injuries and the subsequent time off his bike, was finding the going tough. The elastic finally snapped at approaching the 70 mile marker and at John's insistence (and once safeguards were established), Des continued his quest towards the 3rd stop of the day, hoping to catch up with the youngsters. John managed to catch Des as he had stopped to consult his maps, and more well wishes were exchanged before finally breaking our bond.
Des reached Abbeville, and stopped for a couple of Espressos and a toasted Baguette. Just as he was about to continue, Kevin made contact, and we realised that we were just around the corner from each other - the threesome posing outside a café in the town square, whilst Des had been in a dodgy little Tabac-cum-Bar, having a chat with the proprietor in pigeon-French (note: pigeon was one of the very few creatures on the planet that didn't find it's way into Des' capacious stomach over the course of the trip!).
With the Friday squad back together, John sent a text message to say he was safely en-route to Amiens on the train, and we resumed our campaign towards our night-stop, only to be frustrated by one-way systems. We persevered (i.e. rode on the pavement) until we re-connected with our route. We rolled through pastoral surroundings as we followed the pretty Somme valley.
Des decided that due to our relatively close proximity to Amiens – about 25 miles - and the fact that he'd been working hard to aid John for most of the day, it would be wise to 'throttle back' and try to save some energy for the final onslaught to Paris the following day, so he unleashed his accompanying whippets so they could play with the rabbits on the road ahead. The day's riding had been long and tiring and Des suffered a noticeable drop in form with 15 miles to go, which was countered by a short break and 2 gels. Once re-invigorated, normal service was resumed. Arriving at the Hotel, Des found that the others had only arrived about 20 minutes previously themselves, with John having emerged from the adjacent train station just as Kevin, Mark, & George were checking-in. George too had suffered on the approach with a painful knee.
John had taken advantage of the opportunity to rest, but was still grateful for the luggage/bike ramp at Amiens station.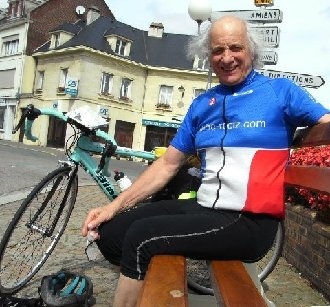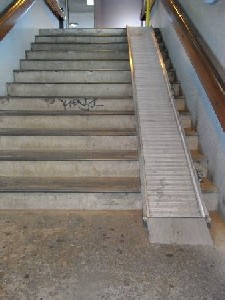 Showered, changed, and re-united, we took a 10 leisurely minute stroll down to Quai Belu alongside the aforementioned River Somme for a meal.
The topics of conversation were generally cycling related; however John's vehicular choice surprised a few. The good food was let down by pretty lousy service, but still, our objectives had been met, and the price suited our pockets perfectly.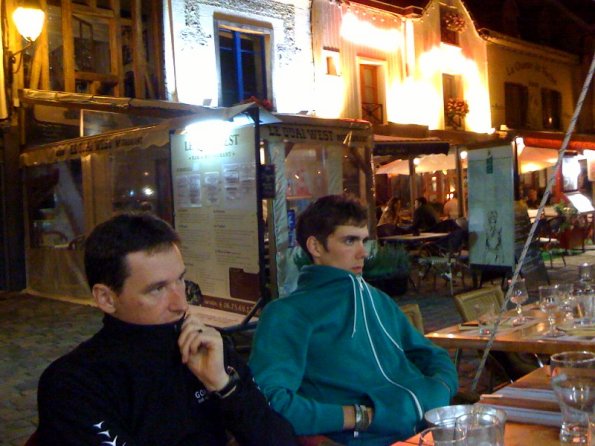 Off to bed at 23:00, with promises of an early start the next day.
110 Miles, 15.6 Average - Stage 2 of the London to Paris Club Run was complete.

---
Amiens to Paris
Mark & George's preparation for this epic trip had culminated in them riding their 1st ever Century ride only 2 weeks prior to our departure. Des rides twice a week, is usually limited to around 70 miles, and hasn't ridden on consecutive days for a long, long, time. Kevin's recent palmaires has been impressive. We had all got this far – 228 miles in 2 days, and weren't ready to give in without a fight.
Breakfast was arranged for 06:00, and we left our hotel at a shade past 06:30 after bidding farewell to John who was off to visit an acquaintance. Our route took us in a southerly direction and the wind had changed to challenge us head-on, though at least it was fairly mild and consistent.
Initially meandering alongside the River Selle, we undulated for the first 25 miles, slowly climbing higher and higher, through golden fields, with majestic wind turbines rhythmically swooping in the distance.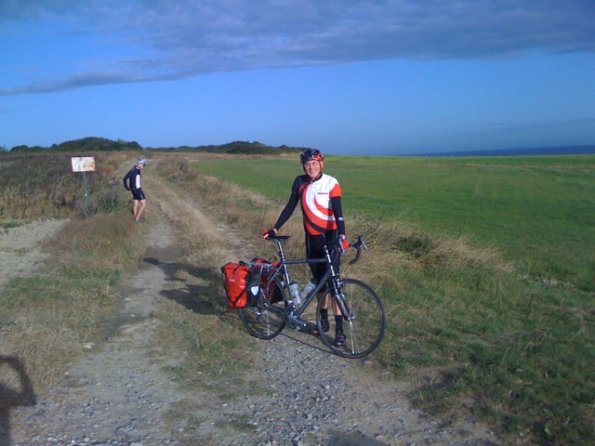 France must have been asleep still, as barring our exit from Amiens, we saw very little in the way of activity for a good while. The sun was shining, the roads were quiet, the scenery was tranquil, and we were riding our bikes – what more could you wish for…. apart from a lottery win & a French Chateau.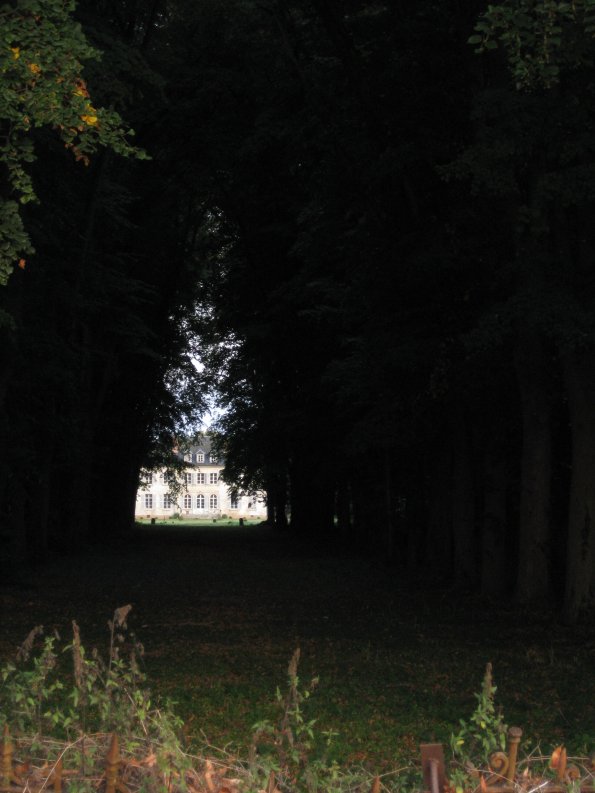 In due course, Des took the reigns on the front and we thundered towards our first refuelling stop of the day at Beauvais after 36 miles. The town centre was dead to the world but unsurprisingly, Des managed to sniff out a bar to engage in Petit Dejeuner. The surrounding clientele were chucking beer down their necks like they were on commission. The breakfast was good though.
A long, long, climb – which took us over the 700ft mark – delivered us back into the temperate countryside where other solitary cyclists greeted us - except one. Having seen him riding towards us only a mile or so back, he came straight past us from behind without acknowledging our existence. Mark – with fully laden panniers – managed to bridge the gap to him and hold his wheel for a while before letting him go, whilst the rest of us looked on chuckling away.
We pedalled conservatively for a while, and then noticed a familiar looking red jersey in the far off distance. Des slipped down a couple of sprockets and got out of the saddle, then settled down on the hoods before activating his concrete wellies - 22, 23, 24, 25, 26, then 27mph. We were motivated, and reeling him in. As we closed in on our prey, it dawned on us that it wasn't the same bloke, but it had been great fun though, and eaten away a good proportion of our remaining journey.
Cergy-Pontoise was our last stop before Paris. The signpost indicated that the city centre was to our right – up a big hill. A chorus of "Bugger That" indicated that a more popular option would be to locate our lunch stop on the current plane. Des asked a local if he had any dining recommendations for us, and he chortled as he pointed skywards, mentioning that the Town square would be the best place to try. We looked up, and then looked at each other. Des walked up the steep incline. George made it halfway up. Kevin & Mark were obviously hungry. A bar was located, and sustenance was devoured.
The final leg of the expedition had begun, and a shade over 20 miles remained. The roads were noticeably busier, and we spent a less than pleasant 5 or so miles on a dual carriageway. We turned off of this earlier than planned and retreated back into more sedate territory, rejoining our planned route away from the main road.
Just as we re-connected, a group of around 25 "Inglish" riders sped past us. Kevin had a chat with some of them, and found out that not only were they fully supported, they had even been bussed down from Calais to Dieppe before staring their ride! We couldn't help but laugh as we rode past their JUICE stop!!!!!! This episode really brought home to us the sheer scale of what we had already achieved. Still, we gratefully availed ourselves of their route markings for a good while, as did a pair riding a tandem, who kept just in front of us as we got caught at too many sets of lights to recall.
Close now, we had one more hill to take care of, which proved to be a real test for all of us. Long and hard, we were heavily laden, and had already ridden well in excess of 300 miles since our departure on Friday morning, and only had a tyres-width over 5 to go. The panoramic view over Paris at the summit was largely ignored – we just wanted to get there now.
The Bois de Boulogne is usually busy on a Sunday afternoon, with cyclists, skaters, joggers, and people out walking their mutts – this day was no exception. Des, now back on familiar territory, engaged his auto-pilot, and straight as an arrow, led out though the cobbled streets. In no time, we were looking over the Seine at the Eiffel Tower just over the bridge. Over we popped and there we were.
Arrived in Paris at 15:50.
95 Miles, 13.0 Average - The London to Paris Club Run was complete!
---
The Home Run
What a feeling! We congratulated each other, then phoned loved-ones to announce our arrival. We'd done it! The obligatory photo shoot took place, and some 'Mercans' took time out of their North Atlantic tour to have a chat with us.
A tour exhibiting the highlights of the Rive Gauche was provided by Des before cruising by Notre Dame, and up towards the Gare du Nord. A bar was found within striking distance, and Beers were despatched in celebration. Kevin's organisational skills were praised, and we discussed making this an annual event for the Club. Paris has always been a magnet for philosophers, and some psychological profiling was carried out as we basked in the sunshine, indulging ourselves in the sublime sights afore us. Our target had been met, with minimal distress, and we were quite over-whelmed with our results having survived the expedition on a combination of base fitness, judicious consumption of energy, the desire to succeed, and not forgetting - BEER!.
We deposited our steeds at the SNCF baggage point, and bumped into a couple of guys who had been riding alongside David Seymour on their foray to the City of Lights. We chatted and they were full of admiration for us as we compared trips.
Opposite Gare du Nord station sits the Terminus du Nord Restaurant. Des had eaten regularly in a 'sister' restaurant on his previous trips to Paris, so he vouched for its reputation. Our meals were well received, and once over, a quick trot back across the road got us to the Eurostar check-in desks in perfect time. The journey back flew past for Des, as he slept for most of it, waking-up when the train pulled into St Pancras station.
Once our bikes had been extrapolated from the vice-like grip of the luggage office (a process that took over 25 minutes), we engaged with the London traffic. Kevin briefly exchanged views with a taxi driver. George guided us through Central London and out West via Kensington and Hammersmith to Chiswick, and finally Brentford. We peeled off towards our respective abodes, but not before more congratulatory salutations had been exchanged.
24 miles, 12.1 Average - Time for bed.......
---
Overall Statistics
| | | | | |
| --- | --- | --- | --- | --- |
| | Day 1 | Day 2 | Day 3 | Total |
| Distance | 190km/118miles | 174km/108miles | 192km/119miles | 556km/345miles |
| Ride Time | 08:12 | 06:55 | 09:25 | 24:32 |
| Climbing | 1824m / 5984ft | 1019m / 3343ft | 1149m / 3770ft | 3992m / 13097ft |
| Average Speed | 23.2kph/14.4mph | 25.1kpm/15.6mph | 20.3kph/12.6mph | 22.7kph/14.1mph |
---
Reports Archives