L'Eroica – Vintage Styleeee! - 5th October 2008
A Pictorial feast from Jason Harris

Denise Wiesia and Lisa at the second last ristoro. A terriffic spread with not an energy drink or gel in sight. There was a man in trad. clobber offering raw eggs from a basket. When I got there I would have laid him a few more If I knew what was coming. This 17 mile section of white road after this stop was brutal.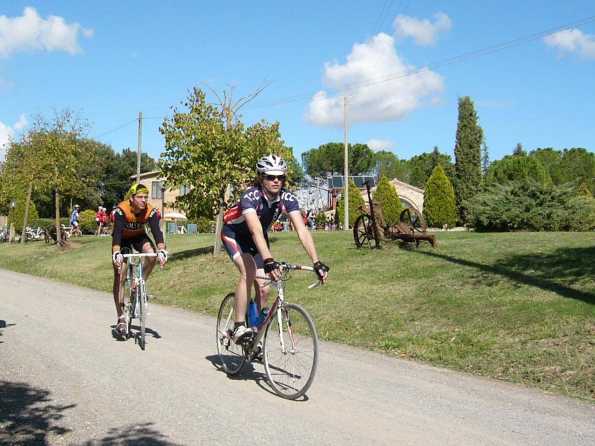 The normal running order. Except usually John was a bit further up the road (bleedin' arriviste!), except on the road sections when he did some sterling and very much appreciated towage.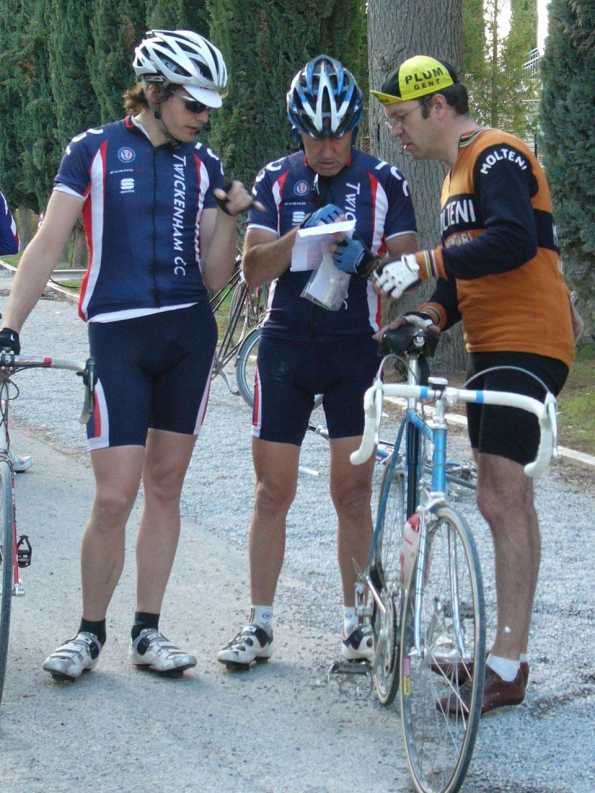 Careful scrutiny of the map didn't make it any shorter.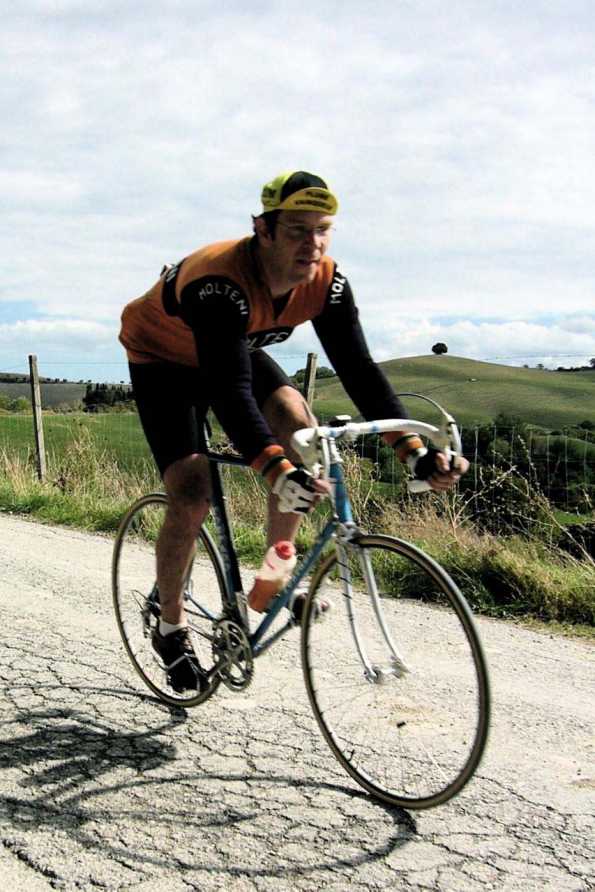 Spot the decade!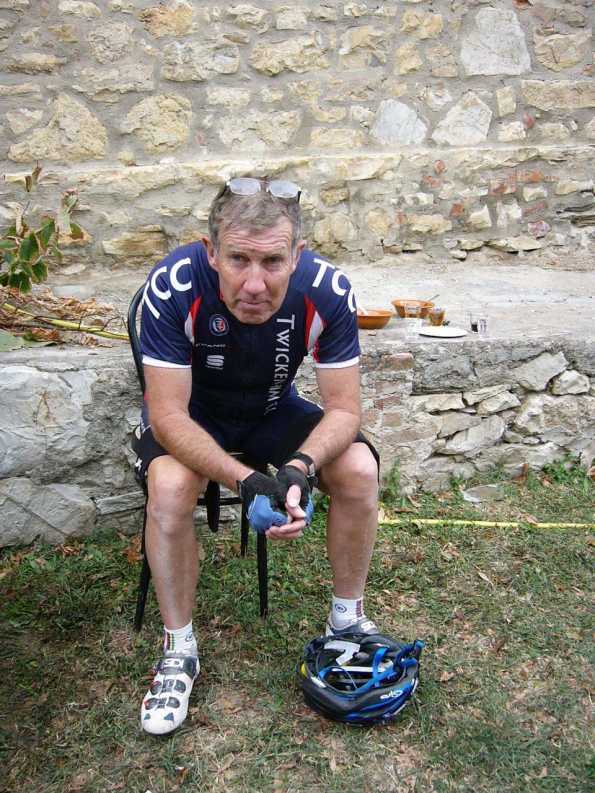 Mac at the last ristoro, note the soup bowls, half empty wine glass, some evil looking spirit, remains of a bunch of grapes left by a couple of laid back guys from Sheffield? Who were caneing it all the way round (Chianti I mean) and turned up in pitch black at the finish about 8 o'clock.

B drove a section of 'stradale bianchi' (white road) in order to locate the 'ristoro' (rest stop) where the photo of the Denise Wiesia and Lisa and of John Mac and Self much later in the day. this is therefore quite early on and people are walking up. There's a fellow on the right who's just fallen over. This section was very tough, Mac reconed that one of the gradients was 21%. I got caught in a rut behind a bloke with lower gearing than me. He was on a modern bike and had the luxury of being able to spin up, however I just didn't have the power to push the pedals round at slow speed and creaked over onto my back all cleated and strapped in. Min. gearing on my treader was 42x24. But, if the climbing was bad some of the descents were heavily rutted and always with a teetering, skidding (clearly s..t scared) roadie on the good bit (the 3000 odd riders ahead of us had created a 6" wide swept bit on the good lines and there was always someone on it even if they were walking). As a result downhill overtaking had to be done on the worst surface and line. Speed IS your friend, at least until your bottle rattles out and you have to clip clop uphill in cleats retrieve it and then back down, get the screw driver out and scrape the channel in the cleat clear of debris to get going again, by which time all the people you've struggled to overtake have gone past. There's a fable about that sort of thing I seem to recall. Old bike and Leather saddle were relatively good at soaking up the rough surface, but a bit bendy on the descents, however top speed on the gravel was 63.5 Kph (39.4 Mph) GET IN!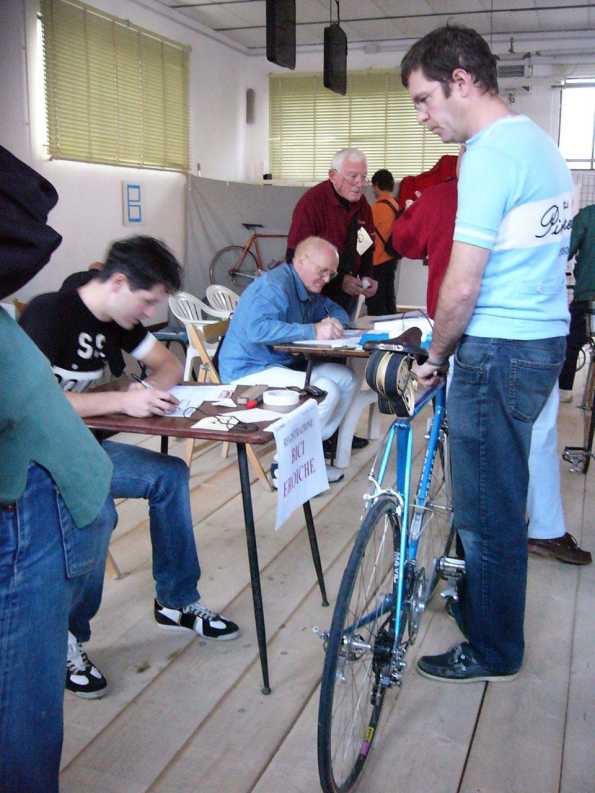 The day before, after I'd registered and surveyed the top notch bike-jumble. I got to the head of a two hour queue to get the bike scrutinised, apparently I get an aluminium plate with number 425 on it and it'll be on the official L'Eroica list of accredited conserved/restored bikes! they said 'very good' felt up the Brookes saddle and a fellow with a GS Padova jersey was keen to tell me that they were from there (Padua). Coincidentally, an ancient bloke behind me in the queue had a 1920's Torpado!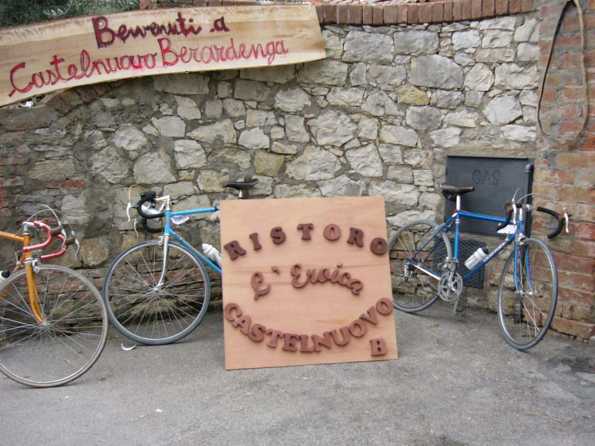 Nice retro touches at the final stop. Leaving 2 hours to do 42.5 km (26 miles) EASY!......Hang on the rolling average is only 22KpH? We realised we were going to have to really leg it to make the 7 o'clock cut off for the bottle of Chianti. I abandoned all thought of going round on trad food only, eat my cliff bar and a gel, drank a bottle of High 5 (thanks B) topped up with bread and jam and cake with black jam on it (myrtle, grape, blackcurrant?), tucked in behind John and legged it on a great downhill section to the base of a long, long climb on yet more white road.

An old bike. Many thanks to all who contributed parts: Dave P (pedals and toe clips), Harry (levers and rear mech) Pete Malcolm and his Dad (wheels, front skewer, bar and stem) and Briand (rear gear wire outer casing-v rare).

A new pair of shoes, heavily distressed, but not as distressed as me when I thought I was going to miss out on the free bottle! Note the dust which settled on the rim of the wheel and the 1978 Nouvo Record rear mech, regina 'Oro" chain, Regina 6 spd 14-24 block and my 4th and last 21mm tub fitted to the rim! Had two blow outs on the gravel and John punctured with a snake bite on his GP 4 seasons, again, on a gravel section.
---
Reports Archives