The Granfondo Pinnarello: July 20th 2008
A report from Jason Harris
The Pinarello shop is a hub at the GF for last minute 'must haves' before the event and gossip and cut price memorabilia after. There's a great air conditioned cafe next door (Goppion coffee from Treviso) and a fabulous ice cream shop moments away.
The shop windows featured a replica (or even a spare) of Alejandro Valverde's red white and yellow 'Prince of Spain' Pinarello Prince (see CW 31 Aug p49), very nice if you like that sort of thing. Along with the official race kit and amongst pink variants for the lady riders....so Italian (you wouldn't get away with that for the Surrey Rumble) was a neatly folded, white towelling bath robe with the GF Pinarello logo embroidered top left. I recall thinking " If there is a freebee this year I really hope THAT is it!"
At lunch, massive tension: What was this year's freebee? A pair of lady riders with Pinarello shopping bags appeared to have white towels with them.... tantalising, but the lady riders always get an extra gift (translated to 'gadget').
The sign-on was in a different location to previous years, outside the town walls and well signposted, except from last years location, so a few confused looking 'old hands' about town, but not us, so well done Gail for your research. The odd person was drifting back to town with bulky looking Pinarello carrier bags and not all females either!
Sign-on was at the gym in a training facility for prison guards. Ignoring their 'customers' probably scores high in the final exams, a few of the prospective POs who'd been kept back for extra weekend lessons were lounging around. They practiced on us.
Sign-on was efficient; scour the board for your name (alphabetical and not too many Harris' to chose from) check number against name and give number to one of a number of attractive and stylish personnel (Pictures please Jason! - Ed.) behind a long row of tables who then provide you with a bag with the corresponding number, name, timing chip, loads of promotional bumf, a bottle of gatorade, granola bar, tin of meat? after show pasta party ticket, but no sign of any towelling product.
Happily there was also a 'gadget voucher' which I duly exchanged for an XL pristine white GF Pinarello bath robe which I wear as I write....fffabulous! Pressure off, now on with the fun.

Sig Giovanni Pinarello shakes hands with another happy customer.
After registration, the day before the Granfondo, I was delighted to have the opportunity to shake hands with Sig. Giovanni Pinarello (again) though I doubt he recalls our previous meetings as mid July tends to be a busy time for the Pinarellos.
Our brief but enjoyable conversation went along the lines of:
JH "nice shirt!"
GP "mine or yours? Both are 'belissimo'!"
JH "what do you think of that (John Brent's) Pegoretti over there?"
GP "Nice welding, but Pegoretti clearly needs to incorporate more bends in both the forks and stays".
JH "have you got any nice old steel Pinarello's out the back?"
GP "get a grip son! things have moved on!"
Sig. Pinarello is a real Gent.
As a change from previous years the start was on the wide avenue leading north from the town.
After a lot of enthusiastic chatter, encouraged by the MC, a mass participation countdown to ZERO!!!... VAI!.. VAI!!.VAI!!!, loads more from the MC, rock music at or near 11 (Bon Jovi?) and a surge forward, there was a further couple of minutes of scooting and freewheeling until massed 'clicking in' for the mad dash to the first hill.
Find a steady wheel and defend it was my game plan which gave a 25.4 mph for the first 10k, followed by the opportunity to view various styles of rapid climbing as I settled into the first incline and a steady stream of riders determined not to. The sound of massed thrumming of high pressure tyres at speed is the thing that I noticed in short intervals between bouts of intense concentration.
The massed start as opposed to the measly batches of 20 or the 'dribble out when you feel like it' of most UK sportives, really sets the event up.
The course was well signed, marshalled by uniformed volunteers who DO have the power to stop traffic and don't skimp on it either. The feed stops (5 for the GranFondo 200km = 124.27 miles & 3 for the MedioFondo 126.5 km = 78.6 miles) were well stocked by enthusiastic helpers all day, and as long as you like apricot cake, ham and cheese rolls, bananas and orange segments, cereal bars and gatorade in all its lustrous colourways, you won't starve or leave a 'ristoro' with empty bottles even if you find yourself drafting the broom wagon, and having played tag with it before, I know that there's no danger of having your number confiscated 'etape style'.
I wouldn't want to cramp Cycling Weekly's style with a hill by hill account of the course, thats best left to those with pages to fill (anyway, there's a route map and profile on the event website).
There was some top scenery (apparently) which you only really notice if you're not trying hard enough, and plenty of refreshment and atmosphere at the finish, together with a Pinarello shoe bag in lieu of the 10 Euro timing chip deposit.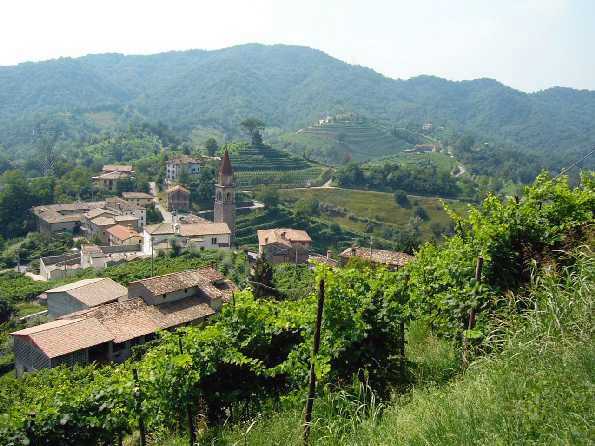 Beautiful scenery (photo taken on a previous GFP)
I had secured my dream 'gadget', also a woollen 'Cicli Pinarello Treviso' jersey and hobnobbed with 'Giovanni', clearly with such a list of achievements it wasn't necessary for me to complete the full course? and so it wasn't.
Placings and times as below, the cooler conditions allowed faster times: All those who'd participated before achieved PBs.
Medio Fondo (126.5 km)

Pos

Cognome

Nome

Sesso

Categoria

Tempo

CatPos

Media

M/F position

1133
HARRIS
JASON
M
M3
4:02:22
247
31.94
1069/1636
1343
BIRKETT
GAIL
F
D2
4:16:14
24
30.21
84/149
1397
WEST
LISA
F
D1
4:21:02
59
29.65
87/149
1656
MACNAMEE
GRAHAM
M
M7
4:52:47
77
26.44
1529/1636
1700
PRASAD
MANEESH
M
M2
5:05:42
258
25.32
1567/1636

Granfondo (200 Km)

Pos

Cognome

Nome

Sesso

Categoria

Tempo

CatPos

Media

M/F position

358
ROBINSON
RAY
M
M5
6:20:32
15
31.53
358/1433
1006
BRENT
JOHNATHON
M
M1
7:22:59
88
27.09
1006/1433
John Brent took his homesick Pegoretti round the long route out of pure goodness and took this lovely snap as a momento of their day out in the hills.
L'anno proximo!
Ciao!
---
Reports Archives