Headlines - 06/09/2010
WLC/Bath RC '25 - Great Missenden (HCC114) - 05/09/10
Individual
Winning time - 56.15
Clayton Edge - 57:08 2nd overall
Liam Maybank - 57:29 3rd overall
Freddie Leatham - 1.02:57
Stuart Kristruck - 1.04:29
Matt Treadwell - 1.04:50
Jason Harris - 1.06:14
Mark Veldmeijer - 1.07.35
Orlando Pellicano - 1.13:27
Des Bennett - 1.23:21
2-Up TTT
Winning team time - 56.49.
Mateusz Dykiert & Darren Paice (2-up) - 1.02.54, 4th fastest team.
---
Surrey League Handicap Championship - Kirdford - (62 miles) - 05/09/2010
45th Mark Spindler
---
London Criterium Championships - Hillingdon - 04/09/10
Matt Myers gives his account of the proceedings :-
Just like to report that it was a great showing for TCC on saturday with me and Oli competing in the London Crit Champs, little did we know how well it would go!!
The race stayed together even after many attacks and a fast average speed (42km/h) for 1hr+5laps, yet with a few laps to go there were two away both from the Felt team, but they were non london residents so didnt count.
Anyway with a lap to go (just after the finish on the headwind section on the top of the course i attacked in my biggest gear (still a junior gear) got a gap and spun the gear as fast as i could, my legs were screaming coming into the last straight but i managed to come in clear of the pack by about 100m. Little did i know that Oli had done a nice bit of slowing in the bunch on the last lap by sitting up just after the hill makeing the bunch hesitate.
Anyway i was so happy with the win, just made all those horrible miles in Belgium and the suffering in the Tour of Wales worthwhile.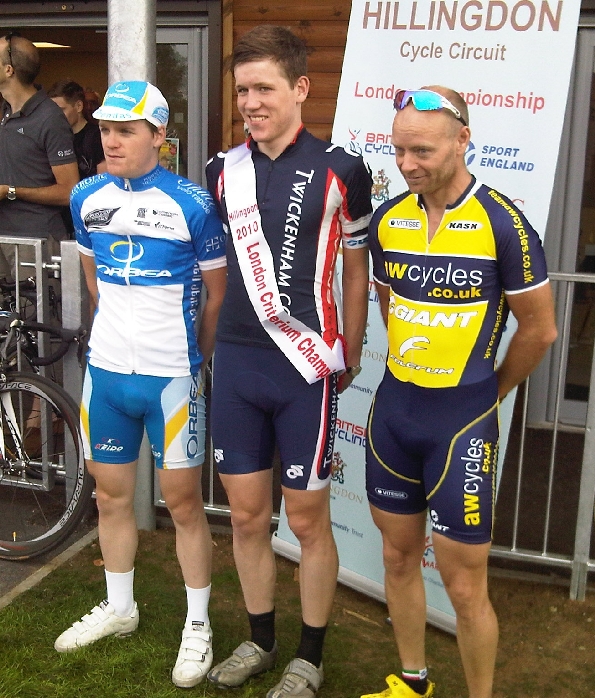 Cat E/1/2/3 - Full result with London below.
1 Justin Hoy Felt-Colbornes RT E
2 Anthony Maye CC Luton 1
3 Matthew Myers Twickenham CC 2J
36 Oliver Newlan Twickenham CC 2

London Championship placings
1 Matthew Myers Twickenham CC 2J
2 Adam Norris Orbea for Goodness Shakes E
3 Vince Halpern AW Cycles.co.uk 1
23 Oliver Newlan Twickenham CC 2
---
VC Londres Late Summer Cross 2 - Herne Hill - 01/09/2010
58th Wiesia Kuczaj (2nd Woman)
---
Westerley CC '10 - H10/22 - A404 Marlow - 30/08/2010
29th Gavin Mitchell 26:47
---
Westerley CC '25 - H25/2 - Handy Cross - 29/08/2010
10th Clayton Edge 56:37
---
And Finally.......
Stefan Zurakowski will be giving massages this Tuesday Night.
There will be a booking sheet on the sign on table, the time slots are 8.30, 8.50, 9.10 and 9.30.
Don't forget to send your results, or anything else you would like featured on our website through to [email protected]
---
Headlines Archives