Headlines - 09/03/2009
Jock Wadley Memorial RR - 08/03/09

Alex 'Sandy' King produced a great result in coming home in 17th position (1st Junior) in this quality field of 80 riders. James Millard took the spoils, from Simon Gaywood in 2nd, and Yanto Barker in 3rd place.
A full report can be viewed on the British Cycling website.
Sandy King 7th in Junior Kuurne-Brussels-Kuurne - 01/03/09
Quote from Sandy's Blog follows:-
"Came 7th after getting in the winning break of 7. Gave it a solo move with around 1.5 k to go but got dragged back unfortunately. Kicking myself as think I should have gone earlier but hey! Good confidence for coming races and training though. No pics as yet even though there were film crews following. Boonen won the big race."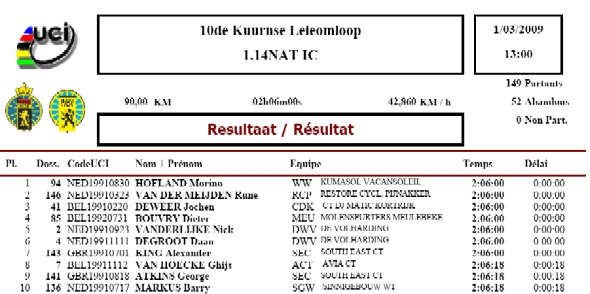 Great Results Sandy!
---
Milton Keynes Handicap Races - Round 2
Lisa West reports:-
A big well done to Jill Parker who riding in Twickenham jersey and in her first road race managed to ride away from the beginners group who were then caught by the 1st and 2nd group to form the chasing bunch.

She then gave fellow team mates Natalie Creswick (not able to ride due to a fall on her training camp in Spain last week) and Lisa West (not able to ride due to flare up of an old back injury) much excitement when she put 25 seconds into the chasing bunch.
Race onlookers were wondering if she could actually catch the chasing bunch seeing as she can time trial a pretty mean 40K in her normal Triathlon discipline and would thus secure a win by being a lap up on everyone else.
Sadly normal road race modus operandi occurred where once the bunch realised there was a rider off the front they quickly reeled her in. She then sat happily in the bunch with fellow Twickenham Team Series riders, Jo Foster, Susie Scorer and Ann Marshall even avoiding a crash that occurred in front of her.
Much respect Jill and looking forward to seeing you ride in the Team Series. Unfortunately apart from Susie who came 9th, Jill (21st) and Jo (24th) just didn't have the legs for the final sprint and came in at the back of the bunch with Ann not far behind that in 27th.
We also gave a shout to Tom Sutherland who was riding in the 2/3/4 race when we arrived - he mostly seemed to be riding on the front of the chasing group as I think he was bored as he couldn't get anyone to work with him to try and catch the break.
Of course he got overtaken in the final sprint, eventually finishing 44th, but he seemed happy to have raced but lamenting not have more team-mates there - am sure things will be better when the club hits Thruxton in force next Sunday!
---
West London Combine 10 - H10/2 (Maidenhead Thicket)
In blustery conditions, an impressive field of 84 riders tackled the A4 west of Maidenhead in this early season West London Combine encounter, with Twickenham CC's representation taking the form of Track starlet Gavin Mitchell - National 24 & Paris-Brest-Paris hero John Warnock - and Cake Connoisseur Des Bennett.
The full force of the 15mph headwind sapped everyone's energy during the outbound run up to the turn at Twyford, leaving little left for the return trip.
John Warnock took a fine 4th spot with a 23:36, Gavin Mitchell was 35th - posting 26:53, whilst Des Bennett, after an injury-ridden 8 months, was pleased with his ride of 32:55 (80th).
The next WLC event is a '25 on the HCC113 Amersham Road course on 22nd March -
Lisa West by this Tuesday to enter.
---
British Cycling Awards Dinner
An interview with Gavin Mitchell can be found on the British Cycling website.
---
Coach Mac's Calshot Track Training Session
Lisa West's round-up of the day:-
Well I just love taking new riders to the Track and seeing everyone coming off beaming ear to ear.
Another fantastic session ably run by Coach Mac and Barbara saw 15 riders, 12 of whom had not ridden Track before, take to the Boards for their first time.
We were divided into 3 groups initially with the more experienced riders getting a good warm-up on the Track whilst the newbies were split into 2 groups to gain their confidence by riding the fixed wheel bikes in the Track Center.
Then one by one, they were coerced up onto the Track and were soon whooping for joy riding round the banking. They were then taught how to change to take turns on the front and then Scherrit led them on a 'lumps and bumps' exercise to give them more confidence of riding up and down the Track.
More cries of joy were sounded when we re-organised into 2 groups with the newbies being paced by the more experienced group where 'taking a lap' was instigated where they got their first taste of black line riding and the g-forces of trying to keep their line somewhere near it - it was very interesting!
All riders were given a chance to improve this by undertaking a 'Flying Lap' which involves being on the Track on your own and being timed for one lap.
Lisa smirked as she has been practising all winter at Graham Mitchell's sessions and demonstrated how riding the black line means you go less far thus get a faster time but she realises it won't take the newbies long to get this skill!
First prize went to Nigel Atkins who rode the longest lap and scared us all by hitting the top of the Track with an almighty bang but he didn't seem to notice and still came off smiling.
All in all a very enjoyable day and everyone is looking forward to the next session which is Saturday 4th April, 13:00 - 17:00. There are still places available so if you want to attend book (and pay) for your place with Lisa - Cost is £10.00 for the session, £12.00 if you want a lift on the minibus and £6.30 for the bike hire.

---
Headlines Archives