Headlines - 01/12/2008
Mike Fletcher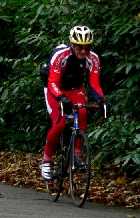 I'm very sorry to have to announce the untimely death of our long-time Club-mate Michael Fletcher, after an accident on the A4 - Great West Road last Wednesday 26th November, between 3 and 4 pm.

He was riding downhill on the cycle-path from Gillette Corner toward Chiswick, on the southern, or Homebase side, when a car pulled out unexpectedly from one of the industrial premises there and ran into him. He died almost immediately at the scene.

Why he was there is not known, he could have been to Tesco or Homebase or something, but he took an interest in the state of the local cycle-paths, and apparently this one in particular, and similar traffic issues, and it may have been something to do with that. Speculation is that he was heading for the canal towpath at the bottom of the rise and a quiet journey directly back home to Brentford Dock.

There's a brief and early account on the BrentfordTW8.com local community news page (note that there was in fact no lorry and this was corrected later in the thread below) - and some sympathetic comments in their Forum, where he appears to have been an active contributor, here.

It also looks like we, the Twickenham CC, might be the closest thing he had to family, as the Police have not been able to find any other next of kin. Discovering who he was and where he lived was something of a challenge, and it was his GP who identified him. If no family are found, the local authority will make arrangements for the funeral, and hopefully we will find out more about this in due course.

Mike came to see me in hospital recently, after I was involved in what seems to be turning out to be a similar "50/50" accident, and we spent a peaceful couple of hours talking about bikes and stuff, in a way that in the normally frenetic rushing-around-earning-a-living/ trying-to-get-fit/ having-a-life world, it's not always easy to do, and I really appreciated his kindness and concern. He was one-of-a-kind, a man who kept himself to himself a lot, and it was always a surprise to hear him talk about some of the things he got up to. As usual in this kind of situation, I feel robbed of the experiences we had not yet shared together.

The Twickenham Cycling Club will be a poorer place without Mike Fletcher.
David Peck.
---
EGM Reminder
Don't forget - The EGM where Club Officials are nominated for the upcoming year is THIS TUESDAY (02/12). The meeting is at the Clubroom, & starts at 8:00pm. If you want to vote, or wish to stand for any of the positions, here is your chance.
---
The Surrey Rumble 2009
Entries for next year's Surrey Rumble opened today, and so far the response has been fantastic, with 53 people registered on the first day alone.
It is obviously apparent that we constructed a very popular event last year, so let's all work together, pull out all the stops, & make this something for the Club to be proud of, and at the same time, support the Dave Rayner Fund.
---
Hillingdon Winter Series
For those who are already suffering from withdrawal symptoms, this Saturday heralds the start of the Winter Series at Hillingdon. Organised by the imperious Doug Collins, here's your chance to continue racing throughout the bleak months. 4th Cats are due off at 12:30, followed by Youths at 13:30, before E/1/2/3 at 14:15. Racers can pre-register their details for the series online at www.imperialracingteam.com
---
Headlines Archives